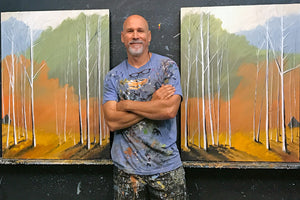 Dear Friends,
I am an award winning, self-taught painter born in Miami, Florida in 1967. In 2004, I decided to dive into the world of fine art. I opened Red Tree Studio, and my colorful landscape paintings quickly grew in popularity.
My artwork has been collected by many private collectors as well as large and small corporations throughout the United States and Canada, most notably the Coca-Cola Company.  I've exhibited at with galleries, fine art shows, as well as shops and decorators across America.

FIND ME ON SOCIAL MEDIA
I post daily on social media for my beloved & loyal following of thousands of subscribers.
COMMISSIONS
I welcome your ideas for personalized art pieces, please visit my COMMISSIONS PAGE to learn more about the process.
I also conduct live, art business seminars and consulted with Western Carolina University as they developed their Artrepreneurship curriculum. If you would like an art business consultation, reach out today!
what do you want on your wall?